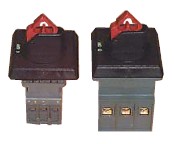 Features
Compliance with: IEC 947- 1 and -3, AC 21, AC 23 J UP TO 690V, Uimp. = 8KV.BS Standard.
Mounting: 35 MM DIN RAIL, SCREWED ON BASE PLATE OR DOOR.
Fully Modular (Frame = 45 mm).
Easy and Quick-to-mount accessories
Protection against harsh climatic environment with insulated material UL94 V1.
Snap contacts which ensures rapid disconnection regardjess of how fast the user turns the operation handle.
High-performance interrupting rating(AC 23 & DC 23 classes).